Sports
King James' Hoop Visit Not A Slam Dunk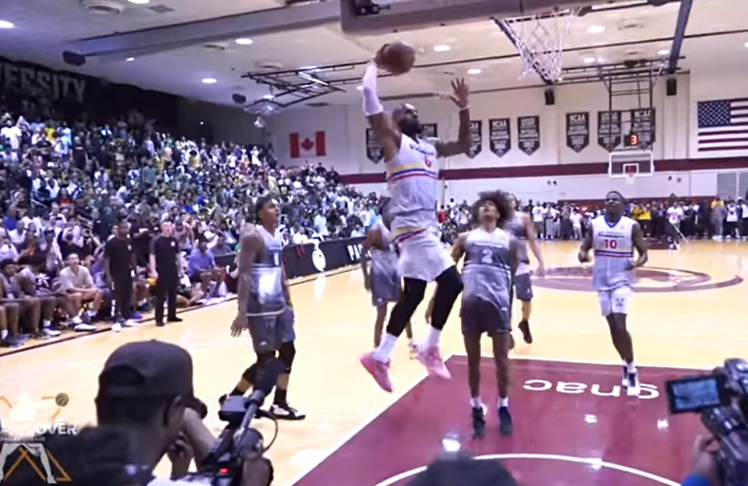 LeBron James goes up for a slam
The basketball player many believes to be the best ever to play the game, LeBron James, visited Seattle's CrawsOver pro-am summer event. It turned out to be bad, bad, bad. Some are even calling it a disaster. LeBron gave the fans who did get into the building a treat by throwing down some slam dunks in the warmup lines. However, the game was called just before halftime when MarJon Beauchamp — the Milwaukee Bucks' first round pick — slipped going up for a layup.
The event drew so many fans that some had to be turned away from entering. And while there were early hiccups with fans rushing the floor and one pulling a fire alarm just before the game started, eventually things got underway.
The building heat from a capacity crowd in the gym at Seattle Pacific University's Royal Brougham Pavilion started to cause condensation to form on the court. Players started to slip around. LeBron electrified the crowd with some thunderous dunks, Boston Celtics star Jayson Tatum scored 11 points early in the too.
Jamal Crawford founded the pro-am summer event for Seattle. He made the decision to call off the game for the players safety. The NBA stars left after fifteen minutes of game action.
Some issues were bound to develop at the CrawsOver event on Friday. James reportedly didn't announce he was playing until a few days before. That made organizers have to find a bigger venue. Crawford reportedly main emphasis is getting children into the gym.
The post King James' Hoop Visit Not A Slam Dunk appeared first on theseattledigest.com.