Local news
Seattle's Garfield High School Celebrates 100 Years Of Rich Tradition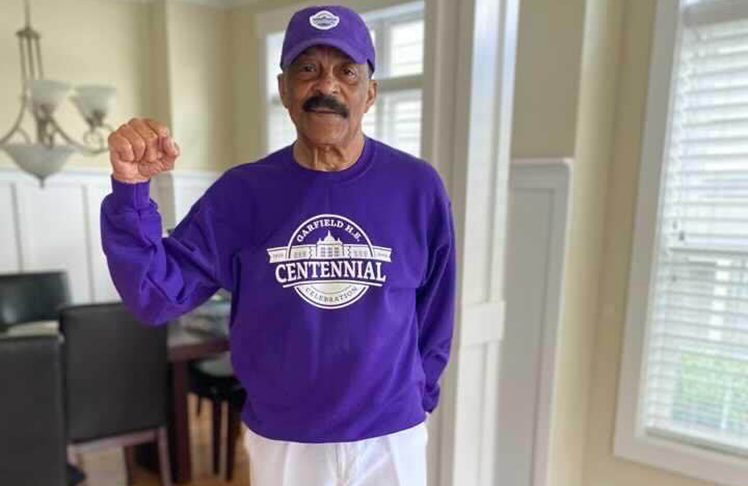 Eddie Rye, Class of 59′
By Aaron Allen, theseattledigest.com
James A. Garfield believed that the South had to be "beaten to its knees," that both slavery and landed estates had to be abolished.
"It is well known that the power of slavery rests in the large plantations," wrote the 20th President of the United States James A. Garfield. "If the slaveholders continued to have power, they would use that power to the detriment of the freed people."
Stretched out on the northeast corner along 23rd Avenue between E. Alder and E. Jefferson Streets in Seattle's  Central District, James A Garfield High School which is named appropriately after this particular president, drew students from all over the city. But there was a uniqueness that surrounded this institution.
This past weekend Garfield High School celebrated its 100th anniversary, its centennial, as students and alumni from all across the Puget Sound region and the country descended upon the campus in celebration and honor.
"I thought everything went well, it was an overall success," says Eddie Rye, Class of 59' and a proud member of the executive committee responsible for the planning. "The planning starting in 2017 to celebrate in 2020 and COVID hit. So, a couple of years in waiting, but I'm still not sure how many people showed up, there were people everywhere, we had good representation and although there were a lot of the younger generation there, I wish more would have come out, but again it was a success."
Garfield High School was established in 1920 as East High School at its current location. The first graduating class was comprised of 282 students who transferred from Broadway High School. In three years, the school's enrollment forced the 12-room building to be scrapped for the Jacobean-style building designed by Floyd Naramore. In 1929, the city commissioned the architect to design an addition for the school as enrollment peaked at 2,300 students.
Garfield High School has long played a key role in its neighborhood, the Central District. As the Central District has changed, so has the school's demographics. In its early decades, the school was noted for its Jewish, Japanese and Italian populations. After World War II, the neighborhood became predominantly African-American and by 1961, 51 percent of Garfield students were Black,
In the late 1960s and 1970s, Garfield was at the center of the school district's attempts to avoid forced busing through various plans, including turning it into a "magnet school." A focus on science and music that has lasted to this present day. The school introduced an APP Program in 1979, and due to the success of this program, an alternative program, IBx, was opened for APP students at Ingraham International High School in North Seattle to help relieve pressure on an overcrowded Garfield.
"I was on staff at Garfield High School during the mid-70s and I thoroughly enjoyed working there and it was quite an experience to be in a predominately Black high school," says Sharon Williams, a retired Seattle Public Schools administrator. "There were turbulent times from outside the community but at the same Roscoe Bass was the principal."
"A lot of wonderful people I've worked with, with whom I am still friends with today," continued Williams. "Working human resources and as a counselor, I worked with white staff addressing the desegregation process and busing. At that time, we were coming out of the civil rights era, we implemented the Jesse Jackson Push Excel Program, so during that time it was exciting to be a part of the Garfield family."
During the Centennial celebration, past and present students gathered and reminisced, laughed and hugged like a family reunion. The uniqueness of Garfield High School was not in that it was a predominately Black school in its heyday, and that was unique and even troublesome in its own right, but that its diversity had been a beacon, an example of what Seattle's racial tolerance could be.
During the 60s, 70s and into the 80s Garfield boasted not only academic achievement but also a sports dominance that hasn't been seen since. Multiple city, district and state championships in all sports across the board. Garfield's athletic prowess is steeped in tradition and history.
For those that attended the emotions ran high as friends and family who haven't seen each other, in some instances since their graduation year, were able to catch up and talk about the glory days.
"Although I was the class of 59', 1961 was a pivotal moment in the history of Garfield," says Rye. "Not only did the demographics of Seattle, the Central District change in favor of the African American, Garfield's Black student population grew as a result."
"The beauty of Garfield was that is where all the Black folks went to school," say K. Staton, a real estate developer and class of 84'. "That was what was so cool about attending Garfield. It was our school, unlike any other in Seattle. That commonality, those roots bonded us as Black students, and those bonds and friendships last to this day."
Many notable people who have spoken at Garfield include Martin Luther King Jr. and Jesse Jackson. Civil rights activist Stokely Carmichael spoke at the school in 1967. Future President Barack Obama gave a speech in 2006 regarding "Innovation in Education".
"And as the civil rights movement was gaining momentum, community leaders like the late Rev. Dr. Samuel McKinney invited the Rev. Dr. Martin Luther King to speak in Seattle," Rye remembers. "After some blowback King gave two speeches at Garfield that year and that was epic for the tradition and history of Garfield and the Black community."
Garfield's tradition and story is one for the history books. With illustrious alumni like Jimi Hendrix, Bruce Lee, Quincy Jones and a host of others too numerous to name, Garfield celebrated over the weekend and for good reason.
The post Seattle's Garfield High School Celebrates 100 Years Of Rich Tradition appeared first on theseattledigest.com.