Local news
Simply Soulful Opens New Central Area Location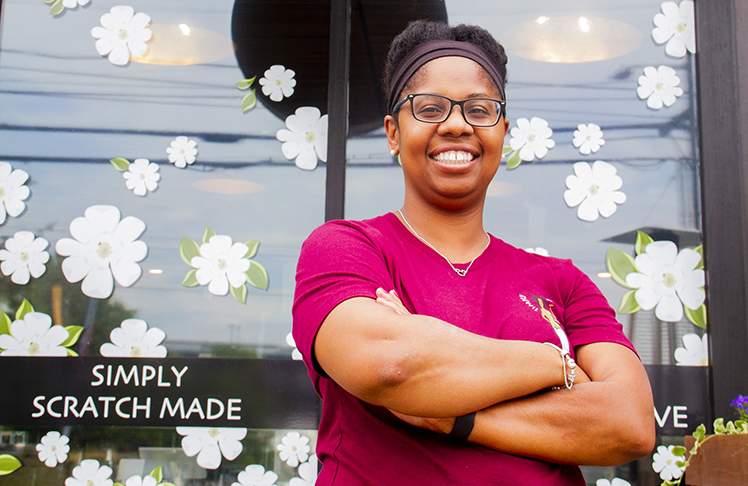 Lillian Rambus, owner of Simply Soulful Cafe
By Aaron Allen, theseattledigest.com
After three years of negotiations, planning, and some setbacks due to COVID, Simply Soulful Café has found a new Central Area home and is preparing for its grand opening.
Located on 23rd and Jackson, the new facility provides the community with a dining/meeting space that is double the capacity of their original location in Madison Valley. With an upstairs space designed for meetings and more seating, and a parking garage, Simply Soulful offers a comfortable space that allows people to unwind, socialize and fill their bellies at the same time. In addition, the new location provides an outdoor space which the owners, Barbara Collins and her daughter Lillian Rambus, plan to host outdoor events featuring local artists.
"One of the main reasons we are excited about this [location] is its historical relevance," says Rambus. "Being on the corner of 23rd and Jackson and its rich African American history, the former location of the Promenade, we couldn't have found a better opportunity."
"We have a parking garage free for the first hour located on Jackson Street, double the seating capacity and meeting space and everything is new and shiny like Christmas," adds Rambus with a smile.
Simply Soulful offers an array of tasty entrees including an anytime breakfast menu that includes biscuits and gravy, shrimp and grits, veggie scrambles and waffles. Their lunch and dinner menus include traditional soul food eats like catfish, gumbo, chicken, pork chops and of course delicious sides like greens, mac and cheese, red beans and rice and yams. With recipes handed down from generation to generation, Simply Soulful holds true to that simple, full of flavor soul food.
Working with Vulcan Real Estate and the City of Seattle for the last three years, Simply Soulful has taken advantage and utilized funding and resources provided by the American Rescue Act which was designed to help businesses get back on the feet during/after the COVID-19 pandemic. However, Simply Soulful's move to their new location has not been without challenges.
According to Rambus, the planning process may have started three years ago, but challenges due to COVID delayed their ability to open their new location despite signing a lease over a year ago.
"Obviously our biggest challenge was COVID," says Rambus. "Trying to find staffing, we had problems with construction, supply chain issues and stuff like that but other than that everything else we have been able to manage."
Despite the challenges, Rambus says that with the help of local investments and the city of Seattle's commitment to revitalizing the area's business sector they were able to rebound, rebuild and re-invent themselves in a way that will help them better serve the community.
"Vulcan is our landlord, so they have worked with us, providing us with the space and they pretty much helped us with everything inside of the walls and we pretty much did everything else on our own," says Rambus. "The city gave us money for our equipment through their Tenant Improvement Fund (TIF), a fund for small businesses in Seattle, businesses looking to move into a new space, or redesign their space, so eligible businesses were award up to $100,000.00 through the TIF fund and that was really a boost and helpful."
With a new location set to open to the public, Simply Soulful has positioned itself to be a gathering place in the community for years to come, and Barbara, Lillian, their family and staff are looking forward to serving Seattle and re-establish Jackson Street as a hub for African Americans and African Americans businesses.
"We definitely want Simply Soulful to continue to be a community meeting space," says Rambus. "We are located in the heart of Seattle, the Central District, we support our local artist by having a rotating art gallery and culturally we just want this to continue being a community meeting space."
The post Simply Soulful Opens New Central Area Location appeared first on theseattledigest.com.